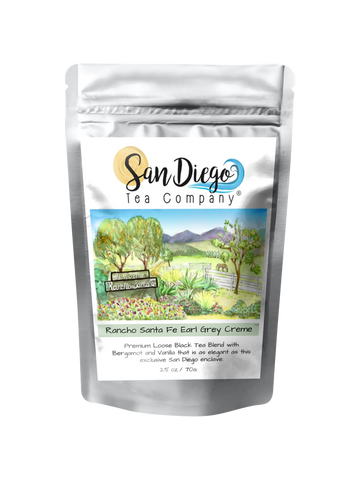 Rancho Santa Fe Earl Grey Creme
Imagine a classic Earl Grey and take that up a notch, our delicious Earl Grey Creme has a hint of vanilla which adds a creamy softness to an already wonderful tea.  We think this tastefully elegant tea perfectly complements one of San Diego's most exclusive neighborhoods.
Ingredients: Black Tea, Corn Flowers, Vanilla and Bergamot flavor.
To Brew: 1 teaspoon per cup, steep 3-4 minutes.
Check our EZ Brew Teapot and single cup Infuser to make loose leaf brewing easy.
Serving suggestion: We think this is perfectly proper exactly as it is but we do enjoy it best served in a pretty china cup and saucer.
2.5 oz/70 g
Related Products
---