The Rose Garden Premium Loose Tea
---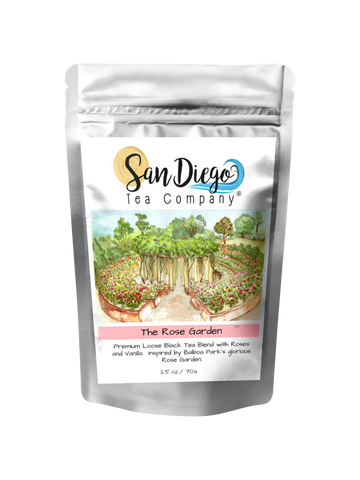 The Rose Garden
This beautifully fragrant black tea blend contains real rose buds, the perfect reminder of Balboa Park's glorious Rose Garden on Park Blvd.  We are surprised by how many locals haven't been to this spectacular garden - we suggest making a travel cup of The Rose Garden tea and heading to this garden in May when the roses are in all their glory.  Send us a photo!
Ingredients: Black Tea, Blackberry Leaves, Stevia Leaves, Rose Buds, Vanilla and Rose flavors.
To Brew: 1 teaspoon per cup, steep 3-5 minutes.
Check our EZ Brew Teapot and single cup Infuser to make loose leaf brewing easy.
Serving suggestion: Serve as is, hot or iced but make time to stop and 'smell the roses' while you enjoy!
2.5 oz/70 g
Related Products
---